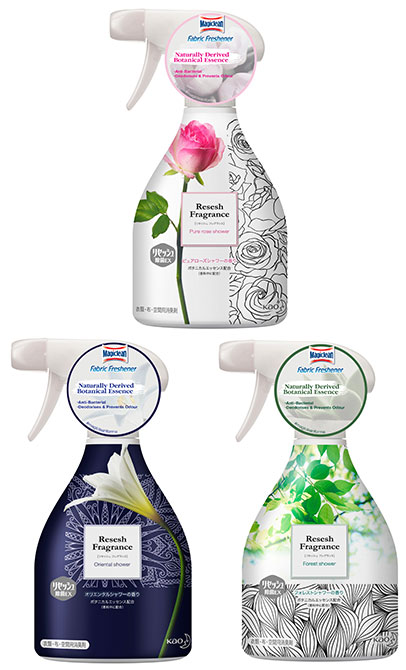 FABRIC FRESHENER
Magiclean Fabric Freshener Botanical Range
Magiclean Fabric Fresheners Botanical Range – specially formulated to meet the increasing demand for natural products. It is specially designed for convenience-seeking consumers and is the perfect solution for cleaning hard-to-wash fabric items like cushions and carpets and freshening clothes that have been sitting in the closet for a little too long.
With naturally derived Botanical essence, Magiclean Fabric Freshener is the excellent choice to tackle odour and kills 99% bacteria on items that one spends a lot of time in close contact with. Musty smell, cooking smell, or even cigarette smell can be eliminated in just a few sprays, but yet, it is gentle enough to be used regularly on baby items like soft-toys and strollers.
Made in Japan with natural scents, this new line acts as deodorisers that neutralise unpleasant scent without the use of harsh chemicals. A combination of its strong penetrative power in the formulation and unique trigger technology, Magiclean Fabric Freshener reaches into the deep layers of fabrics fibres, maintaining the hygiene of these items inside-out.
Available in 3 fragrances: Pure Rose Shower, Oriental Shower, Forest Shower