WIPER MOP
Wiper Mop
A revolutionary cleaning tool with dual usage innovation to transform the way you clean!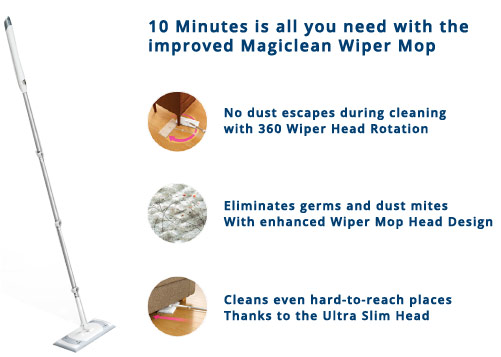 Dual Cleaning Capability
Wipe or Mop? It's your pick with our choice of dry or wet sheets. Magiclean Wiper Mop acts as both a broom and mop to effectively clean up your house with minimal effort!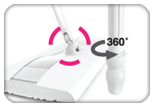 360 Wiper Head Rotation
Swivel the Wiper mop around chair legs or objects and enjoy cleaning with absolute ease!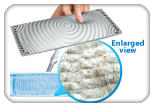 Innovative Curved Cushion Head
Improved with a slight curve and a unique circular pattern, Magiclean Wiper mop boasts an unparalleled ability to trap dirt, dust and hair!
Ultra Slim Head
With a Wiper head that is only 2.8cm thick, you can reach into previously untouched narrow spaces to get rid of all the trapped dust!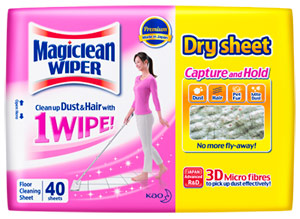 DRY SHEETS
Dry Sheets
Contains 500,000 micro fibres to catch dust and hair effectively. No more fly-away! Suitable for ceramic, wood, vinyl and many other hard and smooth surfaces.
PERFECT FOR:
• Dust
• Hair
• Pet fur
WET SHEETS
Wet Sheets
Wet sheets come with a 3D surface (contains floor cleaning agent) to ensure smoother gliding on floor surfaces. Its unique stretch & release method helps to trap dust and dirt between fibres to remove stains & spills with less effort. No more sticky floors!
Available in Fresh Mint, Relaxing Jasmine & Happy Rose fragrances, the pleasant scent lasts for up to 1 hour so cleaning becomes more relaxing and enjoyable!
PERFECT FOR:
• Dust
• Hair
• Sticky stains
• Oil stains
• Sand & soil